Indoor air quality and home improvement have become two popular topics among journalists and consumers as everyone waits out the coronavirus.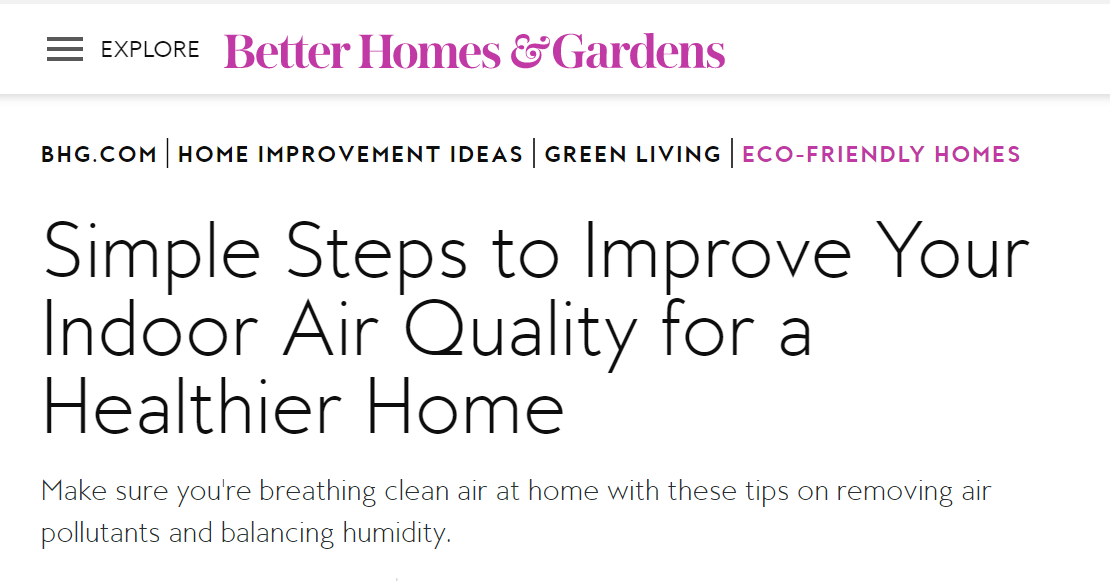 A great earned media win for Trane came in April from Better Homes & Gardens (Unique Views Monthly: 6.52 million). They published insights from our own Indoor Air Quality Product Manager Patrick Van Deventer in their article, "Simple Steps to Improve Your Indoor Air Quality for a Healthier Home".
For example, during a discussion about the value of a whole-home air purifier in the article, the article quotes Patrick: "Simply opening up a window allows for air exchange, but keep in mind it does nothing to filter out the air and other harmful allergens or asthma triggers that could intrude into your home."
Landscaping & the HVAC System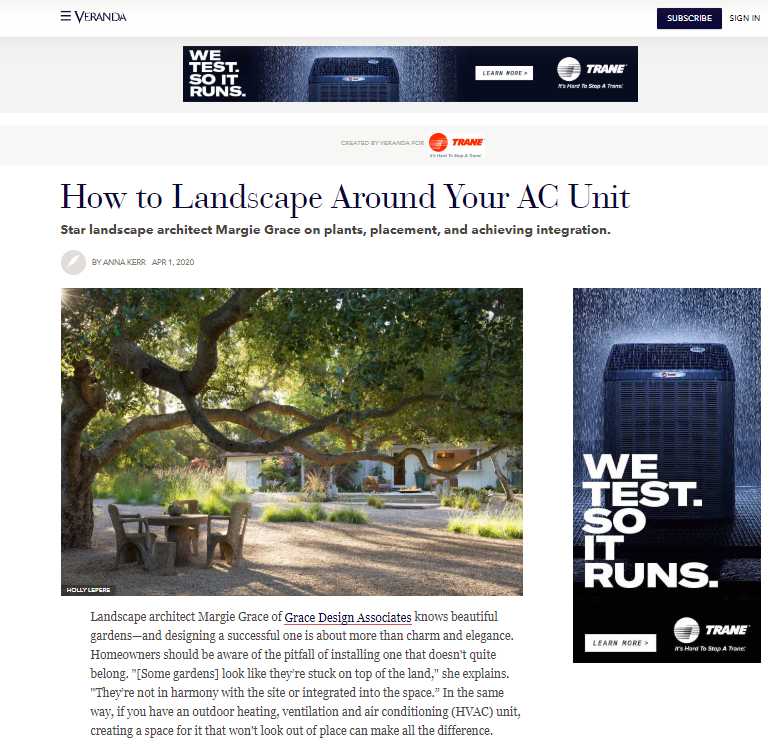 A Trane digital editorial integration with top-tier, luxury home publication Veranda (Unique Monthly Views: 1.2 million) is also now live. The custom article focuses on "How to Landscape Around Your AC unit," with Trane Residential at the forefront.
Our brand messaging is integrated alongside unique insights from landscape architect Margie Grace. The piece highlights the Trane XV20i Variable Speed AC and CleanEffects Air Cleaner with direct links back to the Trane website for more information. For even greater visibility and promotion, this article is accompanied by Trane "Rain" banner ads that are fixed to the article.
Firehouse Renovation Reveal
When Anthony Carrino decided to turn a New Jersey fire station into his home, he turned to Trane to make sure it was comfortable and provided the best indoor air quality possible.
Now Anthony has launched his series on TheBuild.tv to show what it took to make this reno happen. See the first part and subscribe to the series so you won't miss an episode. Hardcore Trane fans also won't want to miss the page dedicated to our products: https://www.thebuild.tv/trane.
It's also exciting to see that this series is already starting to garner media coverage, as Design Milk (Unique Monthly Views: 223,259) highlighted the premiere on April 9, with a quick writeup about the series and a link to the full first episode. In this article, you will see a few images from the project—including one with Anthony sitting in front of the Trane Hyperion Air Handler.
March PR Recap
| | | |
| --- | --- | --- |
| Publication | Title of Article | Unique Visitors Monthly |
| Elle Décor (Print) | Delivering More Demanding Less | 1,932,323 |
| Reader's Digest | 40 of the Latest and Greatest Ways to Reduce Your Carbon Footprint at Home | 7,432,270 |
| ACHR the News | HVAC Manufacturers plan Ahead for 2020 Opportunities, Market Trends | 137,507 |
| House Beautiful Newsletter | Home Love House Beautiful Newsletter | 425,000 |
| ACHR the News | Guiding Customers through Indoor Air Quality and the Tips to Maintain IAQ | 137,507 |
| Contracting Business Twitter | 2020 Residential AC Guide | 9,228 |
| Contracting Business Digital | 2020 Residential AC Guide | 73,536 |
| Contracting Business Print | 2020 Guide to High Efficiency AC | 40,709 |
| ACHR the News: eNewsletter | Guiding Customers through Indoor Air Quality and the Tips to Maintain IAQ | 137,507 |
Up Next for PR:
Summer Heat Survey: Our angle for this survey of 2,000 U.S. citizens is Weather Chat and considers phrases people use to describe weather. (For example, "fry an egg on the sidewalk.") Expect a May launch. Content will tie into ideal temperatures and what people do to stay cool and save money.
More editorial integrations are in the works with HGTV, Houzz and the Family Handyman.
Product integrations are in the works with This Old House's Idea House in Connecticut and the House Beautiful Whole Home Project in Colorado.
Have PR ideas? Share them with Rayanne DuChane, PR and Brand Communications Manager: rayanne.duchane@tranetechnologies.com